Oppo Reno8 T 5G Review: Oppo recently introduced a new addition to its Reno series in the country. The Oppo Reno8 T is priced at Ksh.38,000 for the 4G variant and Ksh.50,000 for the 5G variant. 
The 5G model which Oppo will be really pushing is powered by a Snapdragon 695 chipset, while the 4G variant has a MediaTek Helio G99 SoC under the hood.  
There is really so much to say about this series and of course, it comes as the successor to the Oppo Reno8 (Review). We got the 5G variant as our review unit and well, Oppo added some special hardware tricks on this device that we really like. For example, there is a 10-bit curved OLED screen, a microscope lens, and much more that we will be talking about in this review article. 
We already did an unboxing and first impressions review video so in case you missed it you can subscribe to our YouTube page and check it below. 
For now, here is our review of the Oppo Reno8 T 5G. Should you really buy it?
Oppo Reno8 T Design and Display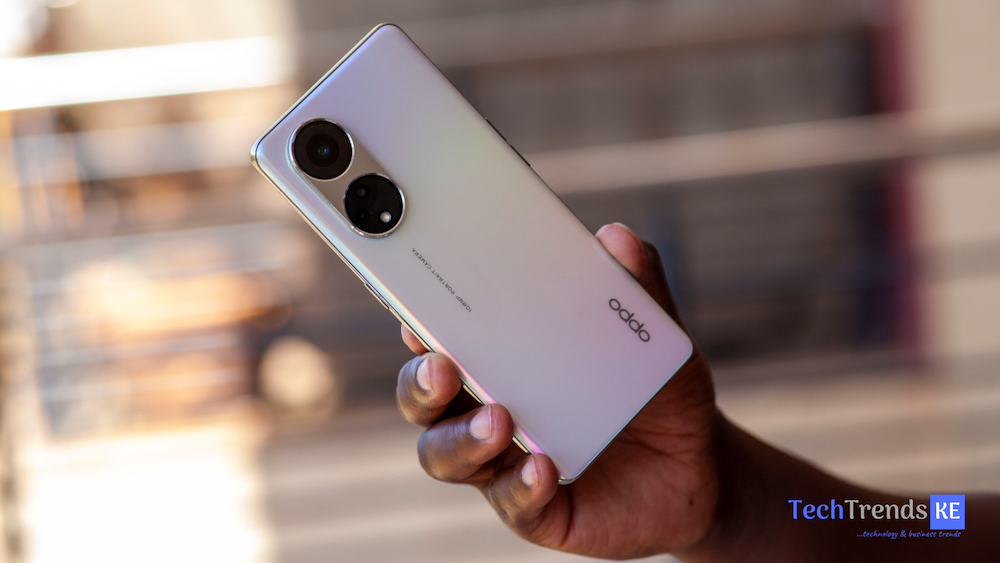 Oppo seems to have gotten everything right when it comes to the design and build quality of the Oppo Reno8 T 5G. The phone looks quite premium. We love the Sunrise Gold color option we got for review which features a shiny and shimmery back that is very hard to miss. The polished rails also go quite well with the phone, and so do the trim volume rocker and power buttons on either side. 
The phone is very comfortable to hold in the hand with all these nice edges everywhere. 
On the right side, there is the power button, while the volume buttons are on the left. The USB Type-C charging port, speaker grille, microphone, and SIM tray are all located at the bottom of the smartphone.
On the top, we have another microphone for noise cancellation and an additional speaker for stereo sound. The smartphone uses a hybrid SIM slot, which means you can either use a second SIM card or a microSD card.
We love the 6.7-inch curved OLED display. Oppo's implementation of a curved display on this phone is spot on. The display offers ys up to 120hz refresh rate, 93% screen-to-body ratio, and 360 sampling rate. This refresh rate offers you quite a smooth experience while scrolling and switching through your favorite apps. As with OLED panels, everything looks vibrant and the phone's output is visually appealing from images to even videos from the screen, although it doesn't support HDR. 
The Oppo Reno8 T 5G also has WideVine L1 certification to display HD content on OTT services. It can also achieve up to 950nits of peak brightness levels which is more than enough for outdoor consumption. We also love the super slim bezels and at just 171 grams, the Oppo Reno8 T 5G is also quite light. 
The phone is available in two color schemes – Midnight Black and Sunrise Gold both of which look really good.
Oppo Reno8T 5G Cameras
The Reno8 T 5G implements Oppo's first 108MP Portrait Camera and also features the company's exclusive 40x Microlens and a 2MP Depth Camera together with a 32MP Selfie Camera. This is a decent set of cameras from the company 
Oppo says the 108MP Portrait Camera, utilizes NonaPixel Plus binning technology and AI Portrait Super Resolution, capturing ultra-clear, high-resolution images in any scenario. The Microlens the company notes provides 40x magnification for exceptional detail offering exceptional detail for users when exploring the microscopic world beyond the naked eye. Of course, Oppo had to get everything right here considering the company always takes a photo-centric approach with this series. 
Regular point-and-shoot camera experience from the device is quite impressive. The output is rich in detail. In daylight conditions, photos from the primary sensor are easy on the eye. I love the portrait mode effects, quite stunning. Indoors, the camera does not also struggle and at night, with the night mode on, the camera does quite a reasonable job. 
I feel the 2MP micro sensor was not necessary though, despite it being effective. Maybe Oppo should have considered adding a dedicated ultra-wide sensor to this setup.
When it comes to the video output, it's surprisingly really good. The camera can record 4k videos up to 30FPS and the audio quality is quite clear. Any content creator would love this.  
Software and Performance
On the software front, Oppo Reno8 T 5G runs Android 13 out of the box and features Color OS 13. For the few years I have used Oppo's skin, the overall experience has almost been similar but Oppo has made some new additions to it. There is some pre-loaded bloatware which of course we're never a fan of but the good thing is it's very little and you can get rid of it. 
Color OS 13 is easy to navigate and you also have plenty of customization features to play around with. From widgets to icon designs and color schemes, there's just so much you can do. 
Oh, did I also mention that there's Multi-Screen Connect that creates connectivity between Oppo products? What this means is that you can connect PCs with your Oppo smartphones, a useful feature you can make use of when doing presentations for example. 
When it comes to performance, the Oppo Reno8 T 5G uses the Qualcomm Snapdragon 695 5G SoC. Might not be the fastest in this segment but it gets things done. The phone handles your everyday tasks like emails calls, social media, and web browsing quite well. Not once did I notice any lags.  On top of this is some 8GB of RAM and 128GB of onboard storage which is sufficient to handle the regular apps you use. 
The Oppo Reno8 T is a 5G-ready phone meaning you can enjoy some 5G speeds if you're area is covered. I really didn't get a chance to test the speeds. Local telcos are still in the early stages of rolling out the service so coverage is very limited. 
Oppo Reno8 T 5G battery life
Powering the Oppo Reno8 T 5G is a 4800mAh battery. You know how Oppo has always spoilt us with fast charging? Added to the packaging is a 67W  SUPERVOOCTM Flash Charger that easily tops up the battery up to 90% in just 40 minutes. 
Why should you buy the Oppo Reno8 T 5G? 
Well, that sums up our thoughts on the Oppo Reno8 T 5G and it's clear Oppo is really upping its midrange offering. Having used nearly all the devices in the Reno Series, we can see some huge improvements. Happy to always see manufacturers bring some features we're used to seeing on flagships to midrange devices.
The Oppo Reno8 T 5G is a slight upgrade over the Reno8 which adds some good value to the line-up. We love the curved display and the Android 13 out-of-the-box offering. We have so many new phones launched this year that are still running Android 12 with no clear timelines on when they will receive updates. 
The phone also comes with some decent cameras and a very efficient battery. Remember when we used to complain about how Oppo Reno devices are very expensive? Looks like Oppo finally listened and priced the Reno8 T 5G at Ksh.50,000. 
What are your thoughts on our Oppo Reno8 T 5G review?
Like and follow us on Facebook and Twitter to ensure you don't miss out on future updates from us. Send tips to info@techtrendske.co.ke